Wider World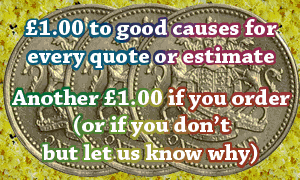 From November 2012 we are reintroducing our donations to good causes.
We will give £1.00 for each genuine quote (or estimate) we provide.
We will give another £1.00 for each order received,
And we will still give another £1.00 for feedback as to why we did not win an order after providing a quote.
We are doing this as we think to high a proportion of our budget goes to Google and Microsoft for advertising. If just a few more of the people that visit this site each month follow up by enquiring for a price we can convert a significant percentage of our advertising budget into charitable giving.
We plan to support a different cause each month, and have started by donating to Amnesty International through November 2012.
For December 2012 we donated to Skipton Little Theatre's Roof Repair Fund. The theatre is small, as its name suggests, seating an audience of about 70. However Skipton Players perform 5 or more plays each year at the venue, and it also hosts several other events. Earlier in the year some structural problems were found in the building, and repairs are much needed. Funding is limited, so we are happy to assist our local theatrical group to ensure their survival.
We donated to Ghar Parau Foundation in January 2013, supporting young cavers to take part in expeditions to remote regions around the globe to explore and survey new cave systems and build relationships with local groups.
We donated to the BBC's Red Nose appeal in February 2013; helping with famine relief etc around the globe.
We are donating to Bristol Sailability in March 2013, in memory of Kyle Pearce, a friend of mine who worked with them. This charity provides sailing opportunities to youngsters with disabilities.
In April 2013 we donated locally to Friends Of Wharfedale Montesorri School, to help provide play activities and a new playground surface for the nursery unit.
In May 2013 we donated to Airedale Mums, supporting their campaign work to improve maternity services throughout the Bradford / Aire Valley area. This group is currently taking a lead role in promoting birth choices for mothers, trying to ensure locally and nationally a full range of choices are available and that commissioners can not act illegally to discriminate against other providers in order to protect their own.
In June 2013 we have supported small enterprises in the developing world through lendwithcare.org.
In July 2013 we donated to Upper Wharfedale Fell Rescue Organisation, providing volunteer mountain and cave rescue services in parts of the Yorkshire Dales.
In August 2013 we supported Noah's Ark Children's Hospice, supporting unfortunate children in North London.
In September 2013 we supported Friends Of Wharfedale Montesorri School, providing seed funding for a children's fund raising party.
In October we have raised funds for BBC Children in Need.
In November we will raise funds for typhoon rescue work in the Philippines.
Future proposed causes include WWF, Centrepoint and SCAD (Skipton & Craven Action for Disability).
Older donations:
Each year we try and support a number of good causes close to our hearts. We make a small amount of funds available to sponsor recreational projects that involve photography and cartography in the recording and presenting (on the web) our natural environment.
Support between 2004 and 2007 has been given to:
Ghar Parau Foundation
Charity supporting caving expeditions around the globe.
Hidden Earth 2007 - Surveying Competitions
Prizes sponsored in the surveying competition for the national caving conference.
OU Cave Club "Oston 2004" Expedition
Exploration and surveying of deep caves in the Picos de Europa, Spain by a youthful team.