If you are selling and letting houses:-
Providing a floor plan to your prospective customer helps them make faster and better decisions at every stage, helping you secure the best deal.
Preview

When buyers browse the housing market, floor plans help them to quickly identify which properties are of most interest to them.

Clarity of description

In conjunction with written particulars a floor plan will clarify the spatial relationships, freeing words to concentrate on the home's special features.

Improved interest

More genuine interest at viewings is the result of better informed customers making improved early decisions about which properties will suit their requirements.

Aide memoire

After a viewing, the floor plan provides an excellent reminder, reducing repeat visits and hastening decisions.

Planning Aid

If your potential purchaser is contemplating alterations, a floor plan can help evaluate the viability of any options.

Faster sales, better prices

All this adds up to stronger interest in properties marketed with floor plans, often contributing to faster sales and better prices.
To order, or for more information, e-mail us now at
enquiries (at) floorplansnorth.co.uk
or phone on 0844 330 7526

Coverage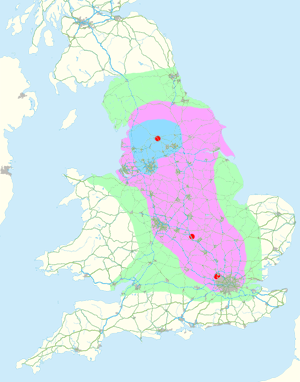 Zone 1 - Blue:
7.5p /sq ft (6.0p / sq ft after discounts)
Private clients - minimum fee £120.00
Zone 2 - Pink:
£50.00 + 7.5p /sq ft (6.0p / sq ft after discounts)
Private clients - minimum fee £180.00
Zone 3 - Green:
£90.00 + 7.5p /sq ft (6.0p / sq ft after discounts)
Private clients - minimum fee £280.00
For commercial clients making regular orders alternative lower minimum fees can be arranged.
Seeking plans for legal compliance?:-
These plans are a great starting point for plans required by recent legislation affecting rented property.
With our Rented Property Plans we can also incorporate the required information including heating, security and fire safety equipment on the plan, with inclusive prices starting from £240.00. For multiple units further discounting available - call Paul for a quote on 0844 330 7526.