Quicksilver Sketch & Scan Layout Plans
From £40.00 (variable with property size)

Voice Line 0844 330 7526
E-mail qs@floorplansnorth.co.uk
Layout plans drawn directly from your own sketches. You scan and email your measured sketches to us, we e-mail back smart layout plans for inclusion in your brochures, web sites & window displays.
Have a look at our sketch drawing guide...
We draw plans like this:
from your sketch like this: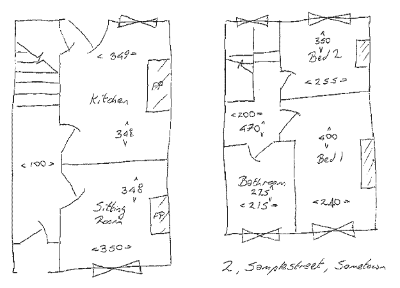 As we do not visit the property ourselves, we are able to offer this service at a very economic rate, however we are not able to offer the same assurances about the final accuracy of these plans.
For prestigious properties, or properties with a complicated layout, we would recommend using our Classic Silver Service or High Detail Gold Service.
For redrawing of plans from existing architects plans, better results are achieved using our Plan 2 CAD Redrawing Services.
New accounts contact: Paul Mann: 07957 606548
E-mail: qs@floorplansnorth.co.uk
As from May 2012 we are no longer accepting faxes (we have not received a fax in over 18 months except spam) - please scan and email your sketches - we can even work from evenly-lit high-resolution photos of your sketches.